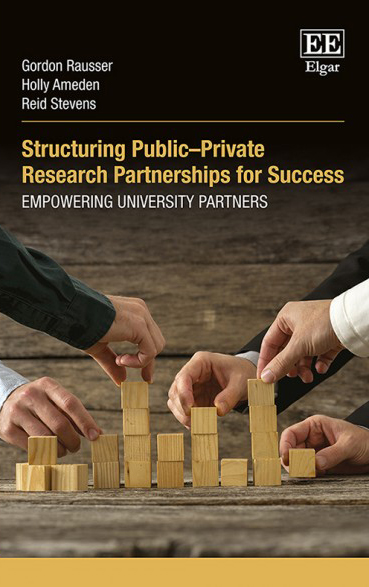 Professor Gordon Rausser and his co-authors have received an honorable mention in the Agricultural & Applied Economics Association's (AAEA) Quality of Communication Award category for their new book, Structuring Public-Private Partnerships for Success: Empowering University Partners.
As funding for universities and governmental research units has declined, these institutions have turned to the private sector to augment their research and development budgets. In the book, Rausser and his co-authors—ARE alumni Holly Ameden and Reid Stevens—present a framework for structuring public-private research partnerships that protect both an institution's academic freedom and the private firm's corporate interests. The authors also offer template designs for a variety of research partnerships.
The book is an illuminating resource for academic researchers in economics and public policy departments, technology transfer offices, and others involved in university and public administration. Biologists, particularly those focusing on biotechnology, will also find the book of interest. Steven Briggs, Distinguished Professor and Vice Chair of the Cell and Developmental Biology Section at UC San Diego, noted, "In this timely book, Gordon Rausser explores the changing landscape of university-industry relations, informed by his unusual background as a pioneer in Public-Private Research Partnerships (PPRPs) while serving as Dean of the College of Natural Resources at UC Berkeley."
Rausser and Briggs formerly collaborated on a relationship between UC Berkeley and the Novartis Agricultural Discovery Institute, where Briggs served as president. "The terms of our contract and the cultural expectations of students and faculty engaged in the program were cultivated by Dr. Rausser to produce Novartis/UCB collaborative teams that excelled beyond the past excellence of either organization," said Briggs. "Several subsequent PPRPs at UC Berkeley and elsewhere have built on the foundation laid by Dr. Rausser."
The AAEA evaluates nominated books based on the timeliness, value, and importance of the topic. The award was presented July 31st at the annual AAEA Recognition Ceremony.
Dr. Gordon Rausser is the Robert Gordon Sproul Distinguished Professor in the Department of Agricultural & Resource Economics. An internationally recognized economist, he has received 23 major awards for original research and distinguished service. He was elected a Fellow of the American Association for the Advancement of Science, the American Statistical Association, and the AAEA, and he has held faculty positions in economics and statistics at Harvard, Chicago, Iowa State University, and UC Davis, among others. He has published over 300 journal articles, book chapters, and books.