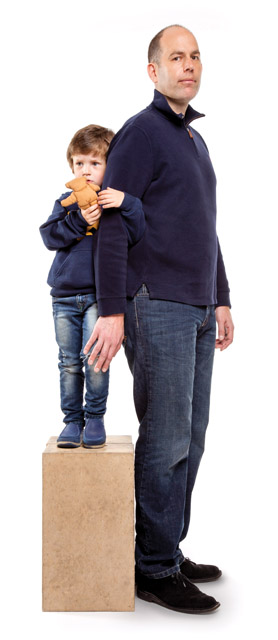 Professor Max Auffhaummer and his son. Photo: Richard Morgenstein
"Everybody complains about the weather, but nobody does anything about it," the writer Charles Dudley Warner said (though the famous quotation is often misattributed to his friend Mark Twain). But as climate change causes global temperatures to rise, people may be forced to take action — even in the United States, where resistance to measures that would reduce carbon emissions has been strong. Last year the country sweltered through its third hottest summer since record keeping began in 1895. Outbreaks of wildfire in Colorado dominated the nightly TV news, and newspapers carried dramatic headlines about the plight of farmers in the Midwest, who suffered through what the U.S. Department of Agriculture called the most severe and extensive drought in at least 25 years.
Along with an increase in the virulence of superstorms that in recent years have paralyzed New Orleans, New York, and Boston, the drought seemed to sharpen the American public's concern about rising global temperatures. It was likely a harbinger of the future. "Whether the drought last summer was really due to climate change or not is sort of beside the point," says Max Auffhammer, an associate professor in UC Berkeley's Department of Agricultural and Resource Economics (ARE). "What we've got is a good example of a really, really hot summer. A lot of models are predicting that that's what most summers will look like by the end of the century."
Auffhammer isn't alone in his assessment that climate change has arrived. And scientists and economists working on the issue agree that while mitigation — reducing or preventing greenhouse gas emissions — is important, it is only a part of the picture for a problem that has no immediate solution. "While we should engage in mitigation because less climate change is better, we need to also be focusing on adaptation strategies," Auffhammer says.
There is also a growing consensus — one we fail to acknowledge at our peril — that any serious analysis of climate change must take into account its human and economic toll worldwide, in particular the effects of people moving out of or into poverty.
Limiting the Damage
Many countries have informally agreed that it's important to limit global temperature increases to two degrees Celsius (3.6 degrees Fahrenheit). But halting warming to even two degrees will cause plenty of fallout.
"Two degrees is enough to cause major, major disruption in the way we live, and to negatively impact billions of people on the planet," says Andrew Guzman, a UC Berkeley law professor and author of the recent book Overheated: The Human Cost of Climate Change. "We've constructed an entire civilization on a set of assumptions about how nature's going to behave, and those assumptions are no longer good."