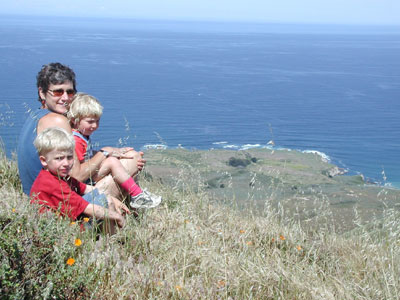 Obituary
Jenny Lanjouw (1962 to November 1, 2005) was a deep thinker who made seminal contributions to research and public policy. She was an Associate Professor of Economics in the Department of Agricultural and Resource Economics at the University of California, Berkeley, a Non-resident Senior Fellow in Economic Studies and Governance Studies at the Brookings Institution, a Non-resident Senior Fellow at the Center for Global Development, Washington, D.C., and a Research Fellow of the National Bureau of Economic Research. She consulted for the World Bank, the United Nations Development Programme, and statistical organizations in South Africa and Brazil. She was formerly an Assistant and an Associate Professor in the Economics Department at Yale University.
Most of her research concerned assessing and addressing the plight of the poor in developing countries. This involved methodological work in the field of poverty measurement, but also involved the detailed study of the performance of institutions-such as intellectual property rights in the pharmaceutical sector-as mechanisms for making new drugs available and accessible to the poor.
Working with her beloved husband, Peter Lanjouw, and others, she combined multiple data sources to estimate poverty and inequality in neighborhoods or towns. This work was aimed at understanding and eventually counteracting poverty in developing countries. She also studied the role of property rights in developing countries, such as the importance to squatters in urban areas of formal title to land.
Her research and much of her policy proposals concerned domestic and international property rights. She examined the degree to which patent litigation served as a barrier to entry into innovative high-tech industries and how patents provide incentives for research and development. Her research on international issues examined the effects of the World Trade Organization requirement that forced many developing countries to introduce pharmaceutical patents. Based on her research, she developed a policy mechanism that would create a global patent system tailored to differences in countries' development levels and to the importance of product markets.
Toward the end of her life, her work on how to finance pharmaceutical innovations for developing countries began to attract substantial attention throughout the world. Her proposal for a mechanism that would permit the poorest countries in the world to preserve access to drugs at the lowest possible cost, without compromising their adherence to global patenting agreements was widely disseminated and discussed in the popular press, including the New York Times, the Washington Post, the Wall Street Journal, and the Financial Times, as well as the World Development Report 2006 on Equity and Development. She advised trade negotiators for a wide variety of countries and participated in a number of international debates on a variety of issues concerning drug access in developing countries.
Bronwyn Hall, one of the world's most respected researchers on intellectual property, writes that Jenny "was always a heroine of mine-with her boundless energy, positive outlook and the effort she devoted to the crusade for generics in the third world."
Dr. Berk Özler, Development Research Group, The World Bank, observed that Jenny "was passionate to turn the ideas in her academic research into reality and she traveled tirelessly from India to Switzerland, Berkeley to the Research Triangle, and to the Congress in Washington, D.C. to promote better access to generic drugs in poor countries."
Jenny was also an empathetic and effective teacher who is sorely missed by her students. Students praised her friendliness, her use of extremely recent material, and her sharing of her own research and public policy experiences. One student wrote that she was "one of the friendliest, most accessible professors I have ever had. This resulted in an excellent, open, creative discussion environment in the classroom."
Jenny obtained her A.B. in Mathematics and Economics (summa cum laude) from Miami University; attended the Masters Program in Economics at the Delhi School of Economics, India; and received both her M.Sc. and Ph.D. in Economics from the London School of Economics, U.K.
In addition to publishing in a wide variety of academic journals such as the Review of Economic Studies, Econometrica, The Economic Journal, The Journal of Development Economics, and the Harvard Journal of Law and Technology, she organized several conferences on patent reform and statistics. She was also an Honorary Fellow, Amsterdam Institute for International Development and an Associate Editor for Economic Development and Cultural Change.
She is survived by her husband Peter (42), her daughter Else (3), her son Max (6), her parents Joann Olson and Bruce Olson, and her brother Rick (42). Jenny was a warm, caring, bright person who will be greatly missed by her family, her colleagues, her students, and her many friends around the world.
Memorial Fund
To honor Jenny, we will be awarding an international prize in Intellectual Property Rights and Development in her name.
You may contribute to the Jean O. Lanjouw Memorial Fund for Intellectual Property Rights and Development securely via the UC Berkeley GiveToCal site, or by sending a check made out to "UC Berkeley Foundation" (add a statement on the note line or include a cover note stating that the check is for the Lanjouw Memorial Fund) at:
College of Natural Resources Office of College Relations 101 Giannini Hall, #3100 Berkeley, CA 94720
Guest Book
14 Comments
1. Today a week has passed since Jenny's passing away, we are very, very sad for losing such a dear friend and such a wonderful colleague. By making the contributions we wish to keep Jenny's momentum going and for her name to be a presence at Berkeley for those who knew her to treasure having had her for two "jewel" years as a colleague, and for those who do not know her, to get familiar with her many contributions in intellectual property and development economics. In the name of our children as well, we wish to contribute to the fund. Please find enclosed our first contribution, we wish to contribute with more in the next semesters to come. It is a way of keeping Jenny with us, in some way.
Comment by "Porgutese" family - November 8, 2005 @ 4:42 pm
---
2. I remember meeting her in the printing room so many times. Now, whenever I am there, I miss her and to feel that she wont't be there anymore is so sad. Thankfully, she will live in our memory and through her contributin in our field.
Comment by Biswo - November 9, 2005 @ 5:33 pm
---
3. Jenny always helped me out and came to my seminars- I will always remember her smile- she will be sorely missed.
Comment by J.S. - November 9, 2005 @ 6:06 pm
---
4. I am so grateful for the time we were able to share with Jenny. I have great respect for what she was able to accomplish as a scholar, and it was so inspiring to see that her work was dedicated toward finding a solution to the problem of how the poor could receive medicines they need. She was also someone who I enjoyed seeing at social events, since she always had a smile and something pleasant to say.
I had a class with her and enjoyed her relaxed and yet informative style, and one of my strongest impressions of her is how her office hours were always crazy with students, filling up all the chairs and floor space and even lining up down the hall. The university has few professors or instructors of any kind who manage to be at the same time so accessible, friendly, helpful, insightful, clever, and knowledgeable. We are so fortunate to have had her with us for the time we did! I'm glad to see that this fund has been set up to help continue her work, but her presence is truly irreplaceable. We miss you.
Comment by James - November 10, 2005 @ 12:19 am
---
5. I remember Jenny's big smile even time I saw her in Giannini, and will remeber for ever. She is such a friendly and thoughtful person: I was really suprised and also grateful when she stopped by in my office and talked with my about my job market paper and job talk while I was on the job market. It is so sad that we lost her. I will remeber her and her big smile whereever I go.
Comment by Yanhong - November 10, 2005 @ 10:57 am
---
6. Jenny would always be an inspiration to me. She always came for my seminars and gave me great comments on my job market paper and dissertation. Her personality, smile and passion for the things she worked on always inspired me. Her encouragement, concern and dedication to issues that affect developing countries would not be forgotten. My strong interest in IPR today is linked partly to some of the conversations we had a while ago. She would be truly missed.
Comment by Ruth - November 14, 2005 @ 1:15 pm
---
7. On November 5, a memorial service was held in Washington. I am posting here the text of Alain de Janvry's statement. - Administrator
November 5, 2005 Statement at Jenny Lanjouw's Memorial Service Washington D.C.
Dear Family and Friends of Jenny:
Let me start with a totally chauvinistic remark by observing that a day like this out in the park is almost as good as a typical Berkeley day: sunny, crisp, and most important good for brain waves. Jenny would have liked it as she enjoyed Berkeley. She, Peter, and the children had become true Californians over the last two years, enjoying extensive camping expeditions to the Sierra and long hikes by the sea. You can appreciate this on the picture that Peter sent to us of Jenny, Max, and Else sitting closely knit together on top of a cliff overhanging the immense blue expanse of the Pacific Ocean.
But let me talk on behalf of my colleagues at UC Berkeley. I know that many of them would have like to be here with us, in addition to Guido Imbens, Elisabeth Sadoulet, and Sofia Berto, and I have the privilege of conveying their love and appreciation for Jenny and Peter through these few words. The occasion is sad enough, so let me focus on how we want to remember her and how we propose to help sustain the momentum of her lifetime mission.
We want to remember her for the altruistic motivation of her mission, deeply committed to helping reduce poverty across the world, in particular by helping poor people gain access to health through their sharing in the benefits of modern pharmaceutical research.
We want to remember her for the scientific rigor of her research, in particular the measurements of poverty much of which done with Peter, and the role of property rights not only in promoting research on drugs and conditioning access to them, but also in giving access to land to landless farmers and squatters in the slums of Latin America.
We want to remember her for the interdisciplinary nature of her research, interacting with lawyers, political scientists, policy makers, the corporate sector, NGO activists, and the media to deal with highly complex issues in a relevant fashion, and to press for implementation of her research results.
We want to remember her for her bold and yet pragmatic policy proposals on global patent systems that were broadly noted worldwide, and that she fought tirelessly to promote.
We want to remember her for the quality and enthusiasm of her teaching, with a large court of admiring students patiently squatting outside her office, and at the same time demanding from them the highest standards of rigor in economic thinking.
And we want to remember her as a wonderful colleague, concerned with others and with the public good, and with the extraordinary ability of always seeing the positive side in every issue, however difficult this sometimes was.
With her shockingly premature death, Jenny did not have the opportunity of bringing to completion her lifetime mission: "to redesign the global patent system in order to give the world poor access to modern pharmaceuticals for both global diseases and diseases specific to the developing world". It is my personal feeling that it is our collective responsibility, as Jenny's colleagues and friends, to make sure that this mission is being actively pursued and brought to fruition.
To fulfill this objective, and with active encouragement by Peter, our Berkeley colleagues have arranged with the Regents of the University of California the opening of a memorial fund named the "Jean O. Lanjouw Memorial Fund for Intellectual Property Rights and Development". The Fund will be used for two purposes: to provide fellowship support to graduate students doing research at the intersection of IPR and development, and to offer an international prize for the best paper published in that area in a given year across disciplines of the social sciences. These would be known as the "Jenny Lanjouw Fellowship" and the "Jenny Lanjouw Prize in IPR and Development". The faculty is also proposing to organize a conference to honor her work and promote the Fund, hopefully jointly with her former institutional affiliations, The London School of Economics, Yale University, The Brookings Institution, and the Center for Global Development, with the possibility of collecting papers in a special issue of Economic Development and Cultural Change as proposed by the editor here present, and for which Jenny served on the editorial board.
Contributions can be made to the Fund starting immediately. Indications as to how to do this are available on your chairs. Your contributions will assist young scholars pursue Jenny's intellectual mission that she was not able to conclude. While we will be missing her forever as a tremendous person, always decidedly on the positive side of life, research supported by the Fund will help keep her intellectual legacy progressing forever.
On behalf of the few of us here from Berkeley and the rest of my colleagues who could not come, allow me to transmit our love and appreciation to Peter, Max and Else, Jenny's and Peter's families, and their many friends here present.
Comment by Administrator - November 15, 2005 @ 11:12 am
---
8. It is difficult to find the words to express our sadness over the sudden loss of Jenny Lanjouw. She was a wonderful positive force in our profession, an extraordinary scholar who was passionately committed to applying her knowledge of the economics of intellectual property to make the world a better place. No challenge was too big for Jenny. I truly believe her work can make a difference in delivering patented medicines to developing countries, and I hope we can contribute to her memory by continuing to push her ideas. My sympathies reach out to her family and friends, and to all of us, her colleagues.
Comment by Richard Gilbert - November 30, 2005 @ 9:39 am
---
9. Jenny was, and will always be, a great inspiration and role model for me. Her work on patents and pharmaceuticals convinced many of us of the social role of economics. Like all of her students, I feel fortunate to have known her personally, and to have been touched by her ideals, professionalism, and compassion - both for her students as well as for the developing countries affected by her work. I will always remember her cheerful encouragement and bright personality.
Comment by Ken Kubo - December 5, 2005 @ 5:06 pm
---
10. I am one person of many that Jenny has reached, informed and inspired through her work. I never had the opportunity to have Jenny as a professor, but her ideas and exciting research was the centerpiece of discussion in many of my economics classes and motivated me to pursue a project on possible global pharmaceutical patent systems.
It is a strange and powerful thing when the ideas of one person are strong enough to reach beyond friends and colleagues to inspire the next generation. The Berkeley students are truly lucky to have great professors, who through their teaching, research and writing inspire others indefinitely.
Comment by Rob Warner - December 6, 2005 @ 4:35 pm
---
11. We were saddened to hear of the loss of Professor Lanjouw. As students in her first Berkeley course, we were impressed by her friendliness, excitement for teaching, and, most of all, the overflowing love and adoration for her family. Professor Lanjouw peppered her lectures with anecdotes about her children and husband -- joking about a family decision making process that includes optimizing her family's utility function and recounting how the Berkeley nursery schools were molding her son into a little environmentalist who lectured her about recycling and reuse.
We wish you comfort in her memories.
Comment by - Adam, Garrett, Malini, and Anne (EEP 100 Fall 2003) - December 6, 2005 @ 5:54 pm
---
12. I'm grateful for the chance to have overlapped briefly with Jenny at Yale and elsewhere and, like so many others, deeply saddened by her loss.
All of us in the development economics community appreciated Jenny's work and her commitment to making the world a better place. To have known Jenny at all is also to miss the energy and vitality that she brought into a room with her.
My family and I send our condolences to Jenny's family, friends, and colleagues. We keep you all in our thoughts.
Comment by Doug Gollin - December 6, 2005 @ 8:23 pm
---
13. Today is Jenny's Celebration Day in Berkeley. I hoped that I could be there to tell Jenny's children how much their mom loved them and how great a person their mom was. I still remembered that three year ago when I was still a Ph.D. student in ARE, I contacted Jenny to ask for some of her information in order to put that in the department's research website in the subsection of IPR/Biotech. Jenny was very helpful and got back to me immediately. However, since I was giving birth to my daughter at that time. I did not respond to her questions/comments in time. I apologized several weeks later and explained my frustration with being a female Ph.D. student and a mother of new born at the same time. Jenny wrote me back with so much encouragement and warmth. She shared with me how much joy she was having with her 8-month old daughter, and how great it could be to be both a successful professional and a happy mom. Since then I always keep in mind how joyful a working mom can be and I had been trying to follow Jenny's model when I was dealing my career and my family. Indeed, Jenny never knew how much I appreciated her encouragement and how much I admired her achievements, both in career and in motherhood. I thought I would tell her one day when I become "successful". Now I only hoped that I had told her earlier. Jenny, you are so remarkable, and I am truly thankful to you even though you don't know about it.
Comment by Guanming Shi - December 9, 2005 @ 1:53 pm
---
14. I simply want to share my tremendous sorrow, too. I found her work inspirational and use it in my teaching on a regular basis, especially her work on access to life-saving pharmaceuticals. I hope that her academic contributions continue to inspire and inform our work. May her smile always warm Peter and her children's hearts as well as all of the other people whose lives she touched with warmth and encouragement.
Comment by Brad Barham - January 16, 2006 @ 6:55 am